As a sales representative for nearly 12 years for IB Roof Systems, the annual company sales meeting held in January has become one of my favorite events that I look forward to each year. Beyond the recaps of the previous year's successes and awards for excellence in action for the sales and technical teams, I look forward to what IB Roof Systems is planning for the new season in ways of policies, procedures, and products that are based on the feedback from our nationwide approved contractors. IB Roof Systems continues to partner with companion products and vendors that provide a profitable return for our contractors/owners. Read on for some "teaser" information for each of the items presented during our sales meeting for the 2019 season, then reach out to your IB Roof Systems Sales Representative for more information.

ISO-WELD Induction Welding System

This offers a user-friendly, quick, efficient, and warranty approved attachment system for IB Roof System products. Using specially coated plates for insulation/coverboard, the membrane is magnetically heated to weld the membrane from the underside to the fastening plate throughout the field. No fasteners are used in the sheet overlaps or are any fasteners penetrating the membrane. Additionally, this system allows for fewer overall fasteners, quick "dry-ins", and allows the main crew to move on to the next project while one or two crew members remain behind with a source of 110v AC electricity to complete the welding of the remaining plates. Best of all, trying to align the width of the membrane sheet to the spacing of the roof purlins is eliminated.


Board Max Insulation & Cover Board Adhesive
With an application temperature down to 30 degrees Fahrenheit, this low-rise foam adhesive is applied in a ribbon pattern with an open time of 1-5 minutes and bond time of 1-5 minutes. This adhesive allows for a fast and efficient application that is NDL approved for IB Roof System products over existing roof systems. It comes with the applicator nozzle and tips.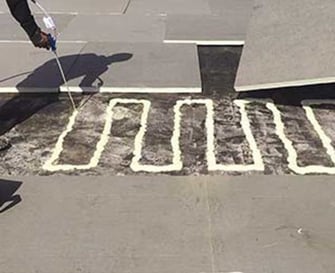 CR-20 Low Rise Adhesive for Fleeceback membrane
More and more landfills are refusing or restricting roofing tear-off waste. In the Portland Oregon area there are only a couple of landfills accepting the roofing refuse and they require asbestos free documentation as well. With CR-20, this splatter applied adhesive can be used right over preexisting asphalt-based roofing material. Combined with IB Roof System Fleeceback membranes, an inexpensive solution with no field fasteners and reduced labor is now available without having to tear off the old roofing system (check with local code for maximum roof system layers allowed).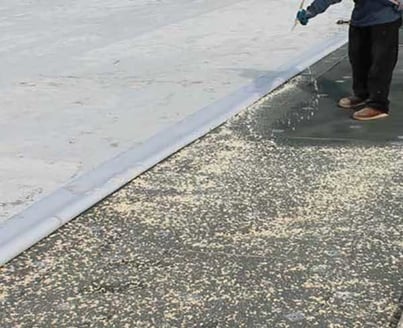 Roof Seal by Polyset
Have you ever needed to temporarily make the day's work water tight to the existing roof system for the night or over the weekend? With Roof Seal, you can apply this foam sealer to the edge where the membrane overlays the asphalt roof and create a water tight seal. The foam then comes off with a little effort to resume the next day's work.

Anchor Products
Joel Stanley cut his teeth in the roofing industry helping his father and brothers build the IB Roof Systems brand and product line. Seeing a need for solar mounts that didn't compromise the waterproofing of the roof, he has created a line of products that work perfectly with IB Roof System membranes. Anchor Products provide a mounting plate with a stud bolt that is covered by a PVC target to seal in the plate. Such uses are Electrical Equipment, Fall Protection, Snow Retention, Solar Racking, Lightning Protection, Crossover Bridges, Exterior Signage, Wire Management, Guy Lines, Communication Equipment, Gas Lines, HVAC Equipment, Plumbing Equipment, Satellite Dishes, and Visual Screens. To learn more about the line of products and uses please contact you local IB Sales Rep.