Welcome Back Kyle Ellison…
We are excited to welcome back Kyle Ellison to the IB Family. Kyle rejoins Team IB as our IB Technical Field Representative based in Wyoming and will provide technical field services for Arizona, Colorado, Kansas, Montana, Nebraska, New Mexico, North Dakota, South Dakota, and Wyoming.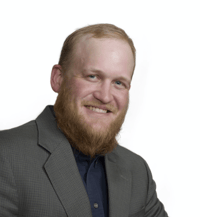 Kyle's vast knowledge of IB products and installation methods are consistent to Team IB's commitment providing the highest level of customer service and technical expertise our contractors expect and deserve.
Kyle is a Wyoming native, and a graduate of Casper College in Wyoming. Kyle has 10 years of hands-on roofing industry experience, installing IB roofing membranes and systems for one of IB's largest Authorized Applicators, and also has 3 years of prior technical services experience with IB Roof Systems. As our 'new' Technical Field Representative, Kyle will focus in the field on quality products, customer service and technical expertise.
Please welcome Kyle Ellison to the IB Team!