I know that this is the 4th newsletter since the beginning of March, but, the other 3 were more administrative in nature informing you of new IB products/procedures, the Western States classes in June, and the new NRCA ProCertification for roofers. Today, I wish to address one of the favorite phrases I love to hear from contractors next to "I converted them to IB", and that is "I told them that I'd rather bid IB".


Spring means that the bidding season is in full swing for most contractors. While many started bidding this year's work last fall, unfortunately, most building owners seem to think that waiting till spring to ask for bids for summer projects is what roofing contractors prefer. Spring is also the time that my phone rings non-stop as both IB approved contractors and non-approved roofers contact me about upcoming projects. And if I had a dollar every time the caller said something to the effect of "I told them I'd rather bid IB", I'd have enough to take the wife out for FroYo and a movie. So, while it's not every phone call that says this, but after hearing it again today, it made me think about just how loyal our approved contractors are and how many contractors want to become an approved installer.

I recognize that every roofing contractor has many manufacturers courting them, and with what can be a confusing array of product choices to choose from, I am very grateful to the many wonderful contractors that I have worked with over the last 12 years. "I'd rather bid IB" is such a powerful statement to me. I can think of many possible reasons as to why they would say that. From amazing customer service to an outstanding performance record, from great product choices to the pride of providing the best roof system available to a building owner. But I choose to believe the core reason that I hear that phrase so often is, this is what family says to each other.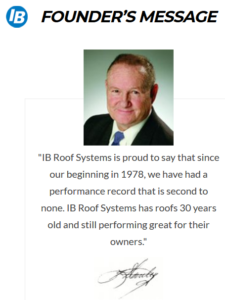 IB Roof Systems was started by Larry Stanley in 1978 in a small town south of Eugene, Oregon (Go Ducks) called Pleasant Hill. Working out of his home as he grew the business with his wife and 5 sons, the legacy continues today with his youngest son, Jason Stanley, as CEO. I am the sales rep of what I call the "mother land" as I cover the Pacific Northwest with an emphasis on Oregon. I live not far from where it all began, and I am blessed to have customers that started with IB in those early years. Yet, I will admit that sometimes working with these decades long loyal customers has its challenges. As IB has grown, so has the need to adopt procedures and policies that are necessary for a nationwide company to operate consistently, and this at times can feel "not quite like the old days". I have 3 contractors that I can count on to always reply to anything I say that is new and different with "Shawn, I can remember when I could go out to Larry's house on a Saturday, open the shop door, load my truck up, and leave a note of what

I took". The Stanley's built IB Roof Systems on a family model that cares for their employees and contractors, and every time I hear an approved contractor say "I'd rather bid IB", I am reminded that this company is family to them.

I mentioned earlier that I even get calls from non-approved roofing contractors telling me that they also "would rather bid IB". Contractors know the value and the peace of mind that comes with working with a family run company. They know that family looks out for each other and helps in times of need. These calls are from men and women who may have worked for another approved IB installer and loved working with the product and now that they have started their own business, they now want to bid IB. These calls are also from contractors who have experienced misery and financial loss working with other manufacturers and their products, and simply want a better experience. Sadly, many of these contractors are simply not a good fit with IB Roof Systems. As sales reps with IB, we strive to find those contractors that have a business model of bidding on quality and not a race to the bottom of the profit barrel with the lowest bid. We don't always get it right, and when we don't, we make every effort to coach and encourage that contractor to a new way of doing business.


The million dollar question at the end of the day for any contractor with any manufacturer, is can you tell your customer that you take care of the pain they are experiencing because you are confident that your manufacturer will support you even without speaking with the manufacturer beforehand? I'm not saying that IB contractors promise the moon and expect IB to deliver. I am saying that IB has partnered with select contractors who also have IB's best interests' heart and will only commit to solutions that are the right thing to do for the building owner, the contractor, and IB Roof Systems. This is the question that many non-approved roofing contractors have a solid answer of "NO" to that causes them to seek out IB Roof Systems.

We are growing. We are hiring and training new staff to assist with the growth. You may have noticed recent email announcements of several new staff members. Soon, they will be up to speed and ready to help all our contractors grow their businesses. You can continue to rely on:
Dedicated regional sales representatives that stay in regular communication with you. Some contractors like weekly interactions and some once a quarter. Your sales rep is ready to assist you as often as you need from beginning to end with your project, staff training, and business growth.
Dedicated regional technical representatives. IB prides itself on the high level of onsite technical assistance we provide at no additional cost to our family members.
Dedicated customer service representatives. These heroes are the ones that take your orders and get them delivered to your project with your special instructions. We have 3 in Dallas and 1 in Springfield, ready for calls from all time zones.
Experienced, almost artisan, customs departments at our distribution centers in Springfield, Las Vegas, and Dallas. If you can draw it with dimensions, we can make it.
Opportunities to try something new. A few years back, the Springfield Oregon Parks and Recreation Department installed IB on their outdoor shelter roofs around a community pool in the color of aqua blue. We love creative ideas!
Unparalleled roof system performance.
I have two goals with all of my family members in IB. 1) When you collect the check, that should be the last time you visit the project, and 2) if you see a former customer in the grocery store, you should never feel the need to hide down the other aisle because they might be angry at you. If I, meaning IB Roof Systems, can accomplish that, then I can wake up each day happy to go to work.......and so should you.