HOT - NEW - PRODUCT INFORMATION Round Base Cones and Flashings Make Jobs Easier and Faster
As we strive to provide the best products and service we have made a significant change to our flashings and cones that will reduce costs, improve installation speed and reduce the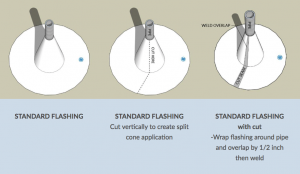 amount of custom versions needed in inventory. The new flashings are now available in round base. The round base makes for easier application and welding. Additionally, the new round base flashings can be in-field modified to become split flashings to address any custom sizes and applications.
Highlights: The round base flashings provide: Standard and split solutions with one flashing No start and stops in corners - easier installation with round bases 25% less welding distance in round application
IB Cones and flashings available in matching membrane colors:
White Tan Gray Brown Red Green Cool Sand Cool Stone
Click here to download the detail sheet for the new, round base flashings, cones and vents.
Click here to download the installation specification sheet
If you have any questions or thoughts, please reach out to your local IB Representative, or our Customer Service Department @ 800.426.1626.
Thank you for your continued business and support.